Wood Plastic Composite(WPC) is a relatively new material that has many potential uses. The markets for WPC decking have been expanding recently and new applications are being pursued. The flexibility of manufacturing methods and product performance attributes provide the potential for a variety of new markets. WPC is an Eco-friendly material which is emerging as an alternative to the natural wood as well as plywood.
What is Wood Plastic Composite?
Wood Plastic Composite (WPC) is a composite material which constitutes of waste Wood fibers and thermoplastics. The wood and thermoplastics are usually compounded above the melting temperature of the thermoplastic polymers and then further process to make various WPC processed to make various WPC products.
Additives, such as colorants, reinforcing agents, and lubricants can be added to achieve a higher level of specification for the intended product's use. Because of the composite's unique composition, wood plastic composite can be manipulated to assume a wide array of shapes and dimensions, including arched and bent shapes. There is wide range of uses and applications of WPC boards in outdoor deck, railings, fences, cladding, park benches and outdoor landscape and so on.
What is the Bongywood WPC made of?
Approx. 90% Recycled materials, produced of 50% recycle wood fiber, 40% recycle plastic & 10% additives.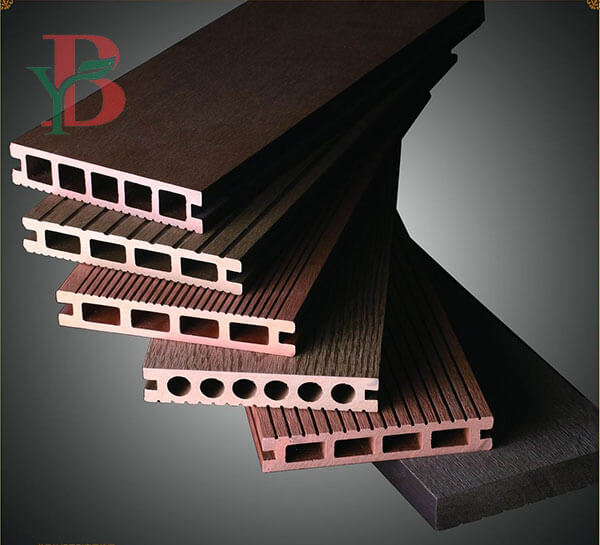 Bongywood WPC is a great epoch-making change in R&D, technology innovation and applications to traditional common WPC. Its excellent performance and quality make it to win the best reputation in industry. There are various characteristics of Bongywood WPC board which are listed below:
Appearance of natural wood, but less timber problems;
Easy to install with low labor cost;
No painting or staining required, low maintenance;
Resistant to moisture, rot and termites;
Resistant to temperatures between –40°C to 60 °C;
Non- toxic chemicals or preservatives.
Durable quality: high bending strength, more impact resistance, low expansion rate & low water absorption rate;
Environmental friendly material, Ten WPC Boards = Save One Tree
Here are various advantages and disadvantages of WPC boards:
Advantages of WPC Board
Low maintenance: WPC can stand up against the elements without the need to seal, stain or paint it. Natural wood needs to be cut to required sizes followed by painting or polishing.
Termite resistant: WPC is resistant to termite and insects while natural wood is not.
Durable: Wood boards and decks look good but do not last long. Frigid winters, rainy springs and scalding summers make wooden material warped, splintered and faded. WPC is more durable and weather resistant than natural wood. WPC does not corrode, rot or delay.
Easily moldable: WPC has great work-ability and can be fashioned using traditional woodworking tools.
Easy to shape: WPC offers great flexibility in the shapes and colors of the materials produced.
Better nail holding power: There is a greater hold of nails, screws and fasteners when used with WPC in comparison with natural wood.
Cuts expenses: In the short term, the wood material may seem cheaper but in the long run, WPC is the better cost saving material as it avoids costs like cleaning and sealing. Wood tends to splinter and warp over time.
Environment friendly: WPC is a sustainable material which uses recycled plastic and waste wood; it is totally environmental protection product.
Disadvantages of WPC Board
Initial cost high: The purchase cost of WPC material is higher as compared to the other materials used for the same purpose, eg: treated wood. But it saves later maintenance cost, and saves money in the long-term run.
Appearance: It lacks the natural wooden texture. As technology continues to improve, there are many realistic imitation wood grain effects in the market.
Heavier than wood: compared with wood materials, same size solid WPC is much heavier. And, hollow composite is more welcome.
Chemical Properties: The wood component within WPC does impact some positive attributes compared to plastic, the inherent problems with wood (moisture sorption and susceptibility to mold and decay) remain. So the second Co-extrusion WPC(also called capped) emerged, compared with the traditional WPC, the Co-extrusion WPC is better at mold and mildew, less water-absorption & less rotten etc.
Uses and Applications of Bongywood WPC Board
WPC has a wide variety of applications:
It is highly used in outdoor decks and patios. Sundi WPC offers various decking options such as: Sundi Adamas Decking, Co-extrusion Decking/Capped Decking, Antique Decking, Traditional Solid decking, Hollow Decking and many more.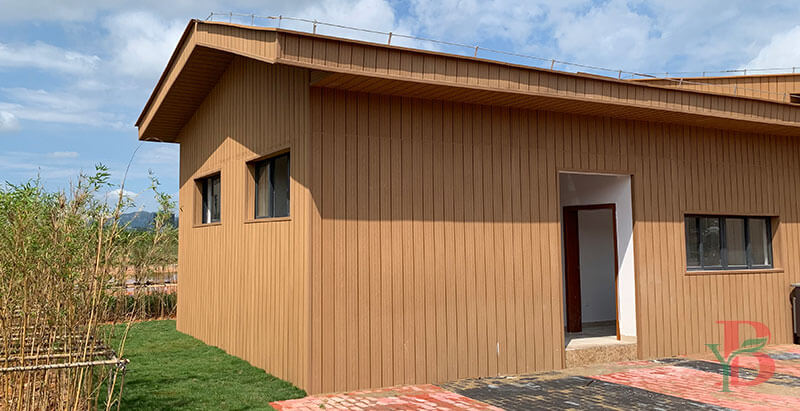 As the material is secure and durable,they are widely used for the preparation of fences for gardens and other outdoor fencing purposes.
WPC Benches & Chairs:
Indoor Flooring and Furniture: 
WPC boards are also used in the interior areas for making of various furniture items such as wardrobes, kitchen cabinets, interior partitions, bathroom vanities and also in the ceiling of the room.
Markets
The Wood Plastic Composites market share has been growing rapidly. The main drivers for WPC acceptance are the perceived improved performance and appearance attributes over existing products such as treated wood decking. Stricter regulations on the use of chemicals in building materials, such as the phasing out of CCA treated lumber for residential decking and the desire for "green" building materials (WPCs can use waste wood and recycled plastics) have also contributed to greater acceptance of WPCs by builders and homeowners.
Two-thirds of the WPCs produced are decking and railing products. Additional potential applications for WPCs include cladding, siding, roofing, residential fencing, picnic tables, benches, landscape timber, patios, gazebos and walkways, and playground equipment.
Bongywood Wood Plastic Composite
Guangdong Bongywood New Building Materials Co., Ltd. is a professional manufacturer specializing in the R&D, production, and sales of WPC (Wood Plastic Composite) materials, our products include composite decking, capped composite decking, WPC Wall Panel, WPC Railing & Fencing, WPC Pergola & Gazebo, WPC Chairs & Bench, WPC Flower Planter Pots, etc.